About Life in Balance Wellness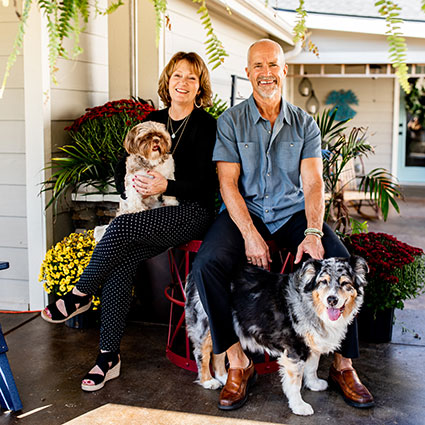 Life in Balance Wellness is the fulfillment of a dream over three decades in the making.
Dr Chris and Dinah enjoyed raising their family and running a thriving Chiropractic and Massage Clinic in Northern MA. After 30 years they decided that it was time to downsize and get out of the cold winters. They did a little exploring and found the upstate of South Carolina. The town of Travelers Rest spoke to them and reminded them of their home towns in upstate NY. They love the small town vibe of Travelers Rest, being close to Greenville and the mountains.
After a couple of years of working for others they decided it was time time to give more of themselves to their community by opening a small, personalized Wellness Clinic. Hence, the birth of Life in Balance Wellness, where they can help others lead happier, healthier lives.
Our Philosophy
Life in Balance Wellness is a chiropractic office that offers massage therapy, personalized strength and flexibility instruction, as well as functional medicine programs to bring your life into balance.
Experience Makes a Difference
More than 30 years of owning and operating a practice gave us lots of time to figure out the most effective ways to deliver excellent care to our patients. Our whole body approach is based on the triad of health—structural, chemical, and mental. An imbalance in any one of these areas can lead to imbalance or disease in the body.
At our practice, we focus on correcting the root cause of your health issue. With a combination of chiropractic, therapeutic massage, functional medicine, exercise, flexibility and strength work, we'll reduce your pain and restore function. We're not about a quick fix; we make long-lasting improvements in your health for optimal wellness.
MEET THE TEAM
Living a Healthy Lifestyle
Patients often come to the office with one complaint, and are surprised to realize the origin of the issue is completely different. We take the time to listen to our patients to discover what factors in their daily life might adversely affect their health.
By explaining how interconnected the body's systems are, we help people understand the value of living a healthy lifestyle. Making little changes to your daily routines can have a big payoff for years to come.
Contact us today
.

About Life in Balance Wellness | (864) 610-0177